Solar panel systems produce power by harvesting sunlight shining on an array of solar panels installed on rooftops or on solar farms. The sun's light is absorbed into photovoltaic cells on the panels, which then creates an electric field.
The photons hitting panels then flow to a house's inverter where it changes from DC power (direct current) to AC power (alternating current), the type of electric current the house uses to power electrical devices in the home such as lights, appliances, and electrical outlets. Excess energy can be stored for later use in batteries.
Table of Contents
Calculating How Many Solar Panels Will Be Needed
Putting All the Factors Together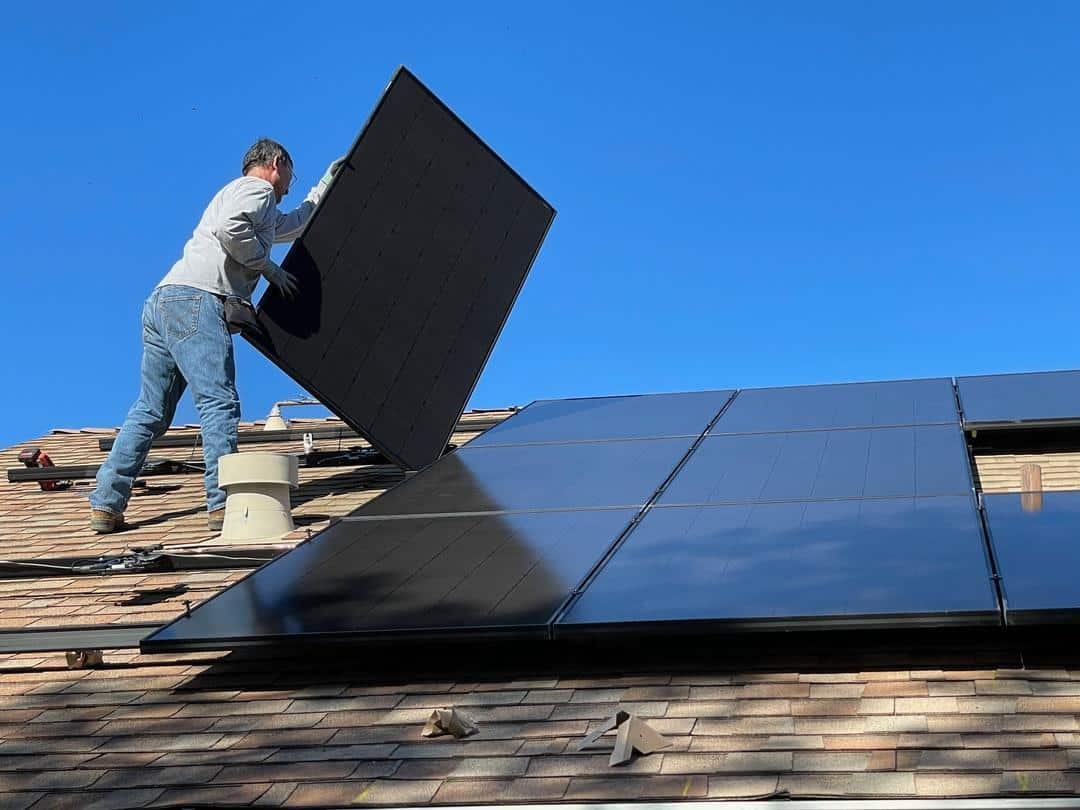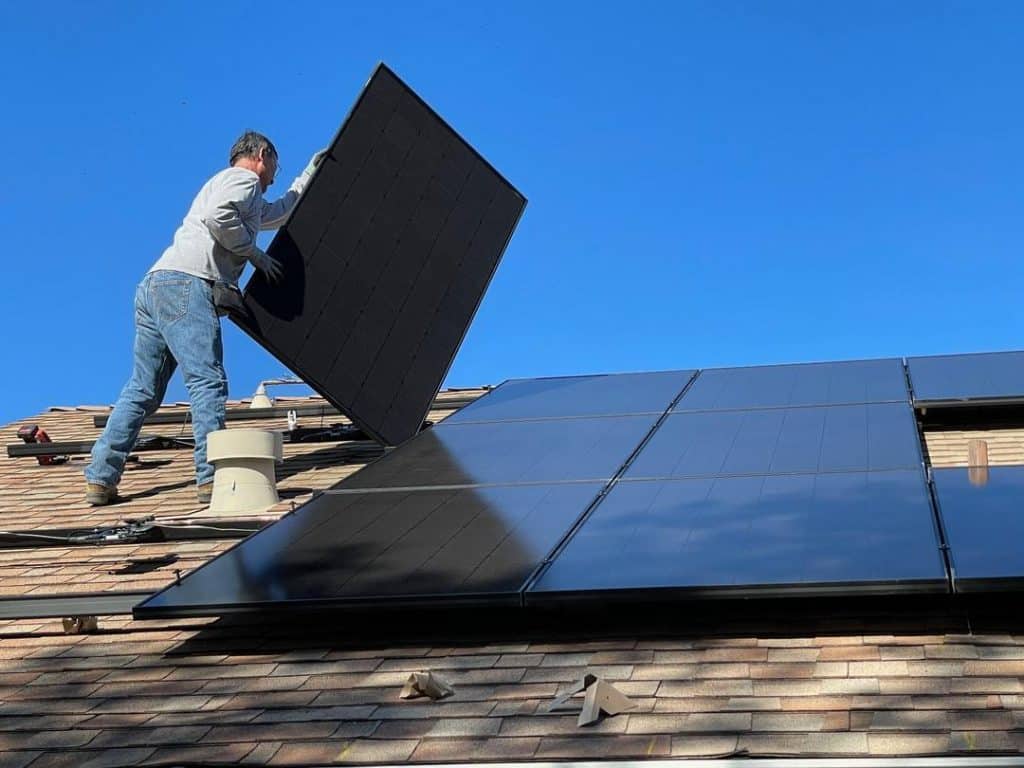 Calculating How Many Solar Panels Will Be Needed
How many solar panels does it take to power a house? In this article, you'll learn to calculate how many solar panels you need by looking at your annual energy usage, your monthly power consumption, and your hourly wattage requirement.
1. Total Solar Panel Wattage and Watts Per Panel
On the market today, you can get 250-watt or 400-watt panels. That means that each panel produces 250 or 400 watts of power per hour. When you put the panels together in a solar array, you get kilowatts of power produced. The amount of kilowatts produced is dependent on the size of the array. The larger the building and the more energy use required, the larger the panel array needs to be.
When choosing a system, one of the considerations for how much solar power you need is the upfront costs per watt, which differs between materials. Monocrystalline panels as well as thin film panels cost $1 to $1.50 per watt on average, while polycrystalline panels cost $0.90 to $1 per watt on average.
2. Annual Household Electricity Consumption
Here's how to calculate how many solar panels you need: the size of the array depends on the amount of energy the household needs and uses as well as the hours of sunlight the roof gets. A solar panel calculator or a solar panels calculation formula can help you figure out how many panels you need. You'll need to know your energy use in kilowatt-hours from past utility bills.
Simply multiply your household's hourly energy requirement by your area's peak sunlight hours and divide that number by a panel's wattage. The average home used 893 kWh per month or about 29 kWh per day and 1.2 kWh per hour. Multiply 1.2 by 1,000 to convert to watts.
How many solar panels does it take to power a house? If there are four hours of peak sunlight in your area and you want to get 400-watt panels, the formula is:
(1,200 x 4) / 400 = 12 panels needed
3. Energy Efficiency of the Solar Panel System
Efficiency, in terms of solar power systems, is a term used to describe the ability of each solar panel to convert the sun's rays into usable energy. Most solar panels today are roughly 20% efficient, meaning the panels can take about 20% of the sunlight that shines on them and convert it to electricity. High efficiency would improve that figure only to about 23%. This is assuming perfect conditions with full sunlight.
Several factors affect the efficiency of your solar panels, including:
The angle of the panels aimed toward direct sunlight.

The amount of shade that hits the panels, including from trees in your yard.

The temperature of the solar panels.

The amount of dirt and debris collected on the panels.

Cloudy and rainy days will result in lower solar power output.
Some of these factors are in your control, including the cleanliness of the panels. The more dirt that collects on panels, the less sunlight will be able to reach the cells, producing less solar energy. An annual cleaning is part of the minimal maintenance the system needs to stay efficient and in working order.
If you let your trees overgrow, the shade will have an effect on the amount of sunlight hitting the panels, so it pays to have branches cut back where you can. As far as the angle of panels, you are limited somewhat to the design of the roof and how it faces the sun's path, but the installers can set the appropriate angle accordingly.
4. Sunlight Hours Per Day Your Home Receives
The energy coming from the solar panel system is only available while the sun is shining on it, so on cloudy days and at night, electricity is not flowing from the panels. During times when the sun isn't hitting the panels, your house will pull power from the local power grid.
To use solar power during those times when sunlight isn't hitting the panels, you would need a battery system that collects any extra electricity generated during the day and stores it for later use. Having fewer sunlight hours hitting your solar panels, for whatever reasons, may require the choice of installing more panels to capture the sunlight.
5. Solar Installation Costs
An efficient 5-kilowatt monocrystalline solar panel system costs between $5,000 and $7,500 before any incentives or tax credits and excluding maintenance costs. Polycrystalline solar panels are less efficient but are more affordable at a price range of $4,500 and $5,000 for a 5-kilowatt system.
The total costs of a system can range from $15,000 to $40,000, including cost for installation. The panels themselves make up only about 30% of the total costs.
For household solar panel systems, there is a federal investment tax credit that can be used one time called Residential Renewable Energy. This credit is based on a percentage of the full cost of the completed installation and can be claimed on a homeowner's income taxes.
Putting All the Factors Together
Solar panel systems are a clean and efficient energy alternative to using the local power grid. With regular maintenance, a typical lifespan for your system is more than 25 years. Use the following formula to input out how many kWh your house requires and how many panels you need:
(watts of energy used x sunlight hours) / panel size in watts = number of panels needed
Once you have it figured out, you can get the proper-sized solar power system installed, make use of all of the incentives and tax credits to save you money on energy. Then you can enjoy the savings throughout the lifespan of your system while using clean alternative energy that doesn't produce greenhouse gas.
Another way to save money if you're going to use solar as well as the local power grid is by using Power Wizard to search for affordable rates.
Here's how it works:
Enter your address and zip code

– Your zip code and address will help us customize your results using historical energy usage data.

Get results in seconds

– Our smart technology searches and filters hundreds of deals in only seconds.

Select a service option

– Choose to use our technology and service once or choose to have our energy experts work with you and manage your account for you.

Unlock your power plan

– We've eliminated the hassle of having to find these deals one by one. Now it's time to unlock the best plans for you.
We've saved customers an average of $748 in 2021. That kind of annual savings is too great to pass up, so sign up today. Visit Power Wizard to see how we can help you save hundreds of dollars per year.