The deregulation of electricity in Texas opens up a huge opportunity for residents to choose any retail electricity provider (REP) they want. However, most just stick with whoever they have now. 
What's wrong with that?
Well, it's like going to a candy store and only getting candy corn.
Whatever your opinion is of candy corn, you probably wouldn't say it should be the only candy there is. There are over 130 flavors of providers to choose from, so why would you stick with one when you aren't even sure if it's your favorite?
Don't let analysis paralysis keep you from the best electricity plan.
Through Power Wizard's Shopping Tool, homeowners can be matched instantly with the provider that is best for them. Find the best plan for you there, then come back if you want to learn more about the Texas deregulation map.
Let us find you the best plan in seconds and start saving.
What is Electricity Deregulation?
Click on a section to skip directly to it:
Deregulation, commonly referred to as retail electric choice, is not a new idea.
Originally, there was no regulation of electricity. The market was essentially deregulated – we just didn't use the term.
Without regulation, the lack of organization and monopolization by large utility companies led to a bit of chaos:
Price-gouging
Duplicate distribution systems
Large blackouts
Other complications
In 1935, to protect consumers and the level of service provided, both state and federal governments stepped in and the electricity market was regulated.
Starting in the 1970s the federal government slowly introduced changes to move back to a free electricity market.
Now, with proper oversight, states can choose to implement retail electric choice programs – aka, deregulation.
This is a very high-level summation. A LOT of elements contributed to the current affairs of federal and state electricity regulations.
Deregulation of electricity is essentially the unbundling of large, investor-owned utility companies who, historically, control all three aspects of the electricity market:
Generation
Transmission
Distribution
Deregulation introduces competition into the marketplace, typically in the distribution phase. Rather than being beholden to ONE utility company, consumers can choose the energy provider they want to do business with.
This allows Retail Electricity Providers (REPs) to offer various rates, plan types, and different levels of flexibility to consumers.
Where is Electricity Deregulated in the United States?
While some states in the U.S. are still fully regulated, others operate under deregulated or partially-deregulated energy markets (electricity, natural gas, or a combination of the two).
Here is a map of the U.S. that provides an overview of which states have a deregulated electricity market.
If you view this map, you'll see that Texas is one of several states that has a "functioning competitive electrical utility market."
Let's take a look at Texas' deregulated electricity map.
Texas Deregulation Map: Overview
There are six Transmission and Delivery Utility (TDU) companies servicing the areas of Texas that have a retail electric choice (the deregulated markets).
In the map below, you'll see the six TDUs and their coverage areas.
The markets in white do not participate in retail electric choice. We'll discuss why some areas are exempt from deregulation in a later section of this article.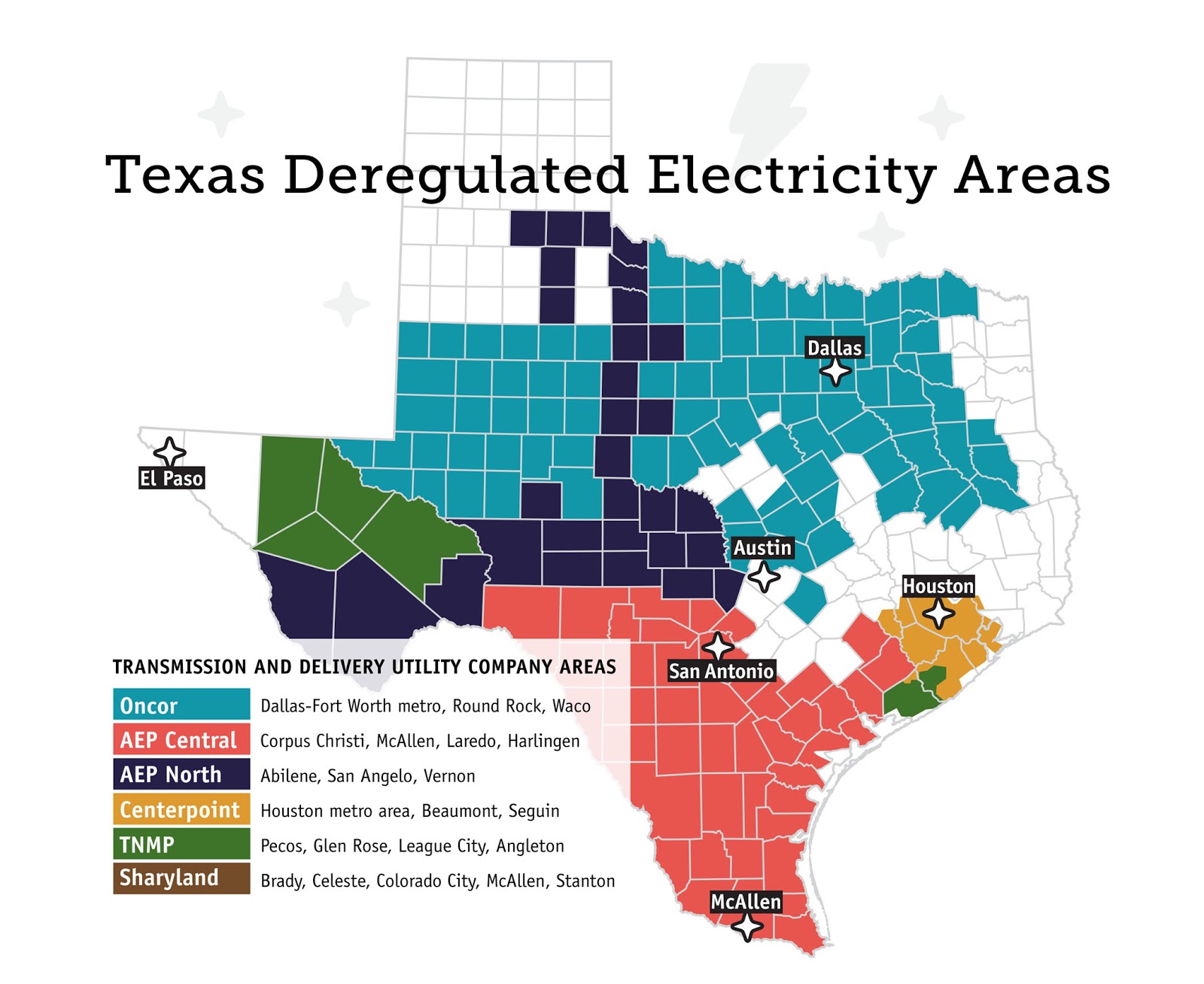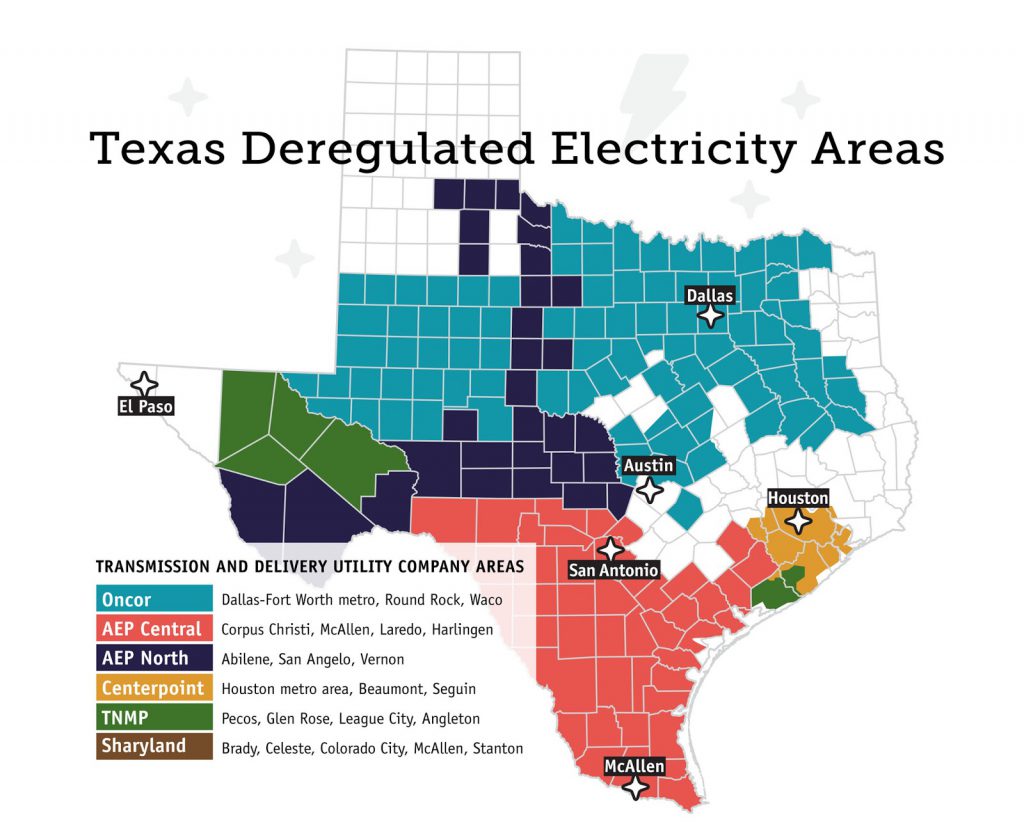 Texas Deregulation Map: Detailed Deregulated Areas
Here is a more detailed view of the deregulated markets with several more cities labeled.
Three of the largest cities in Texas are deregulated:
Houston
Dallas
Fort Worth
For a complete list of electricity-deregulated cities and towns in Texas, please see below.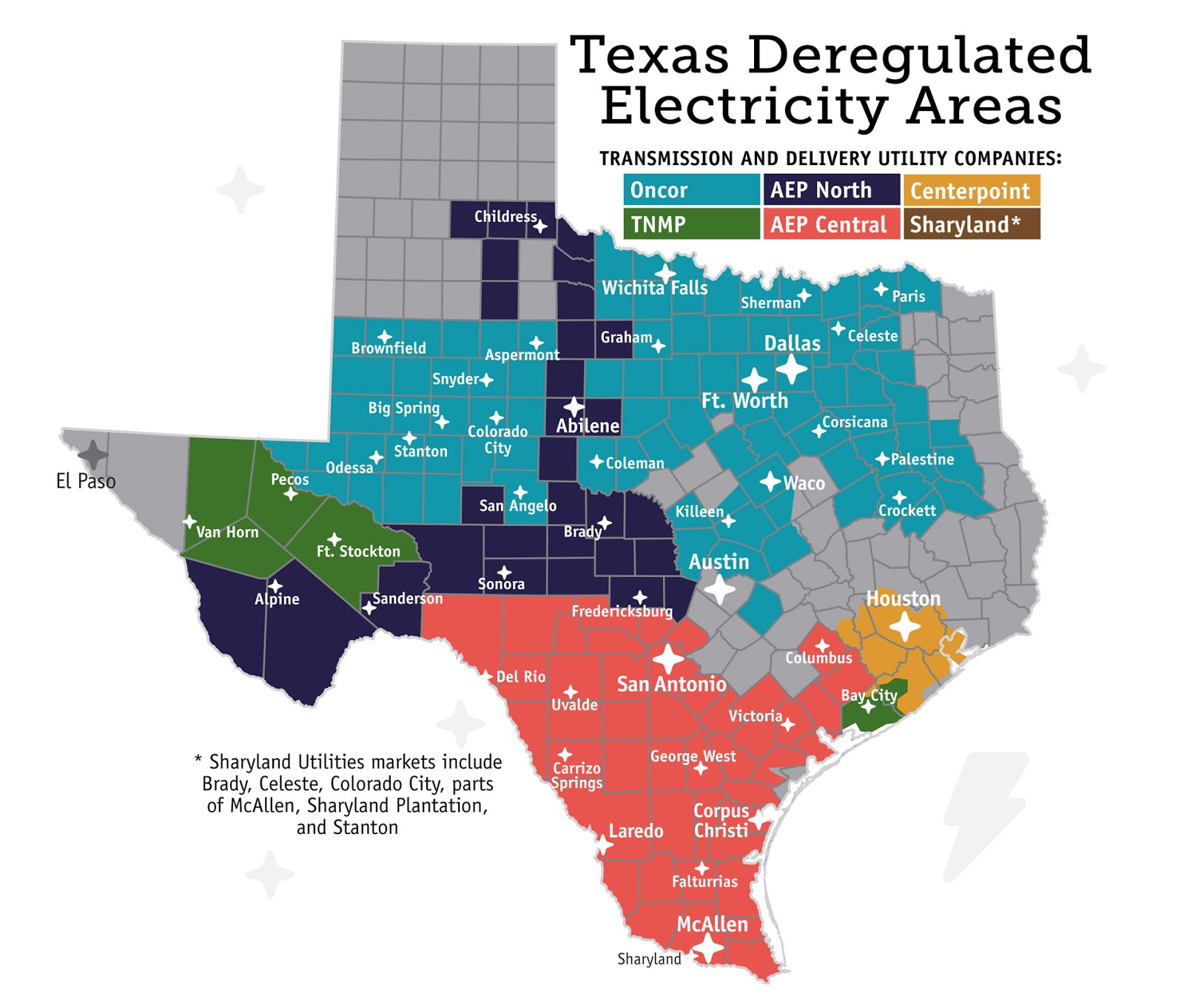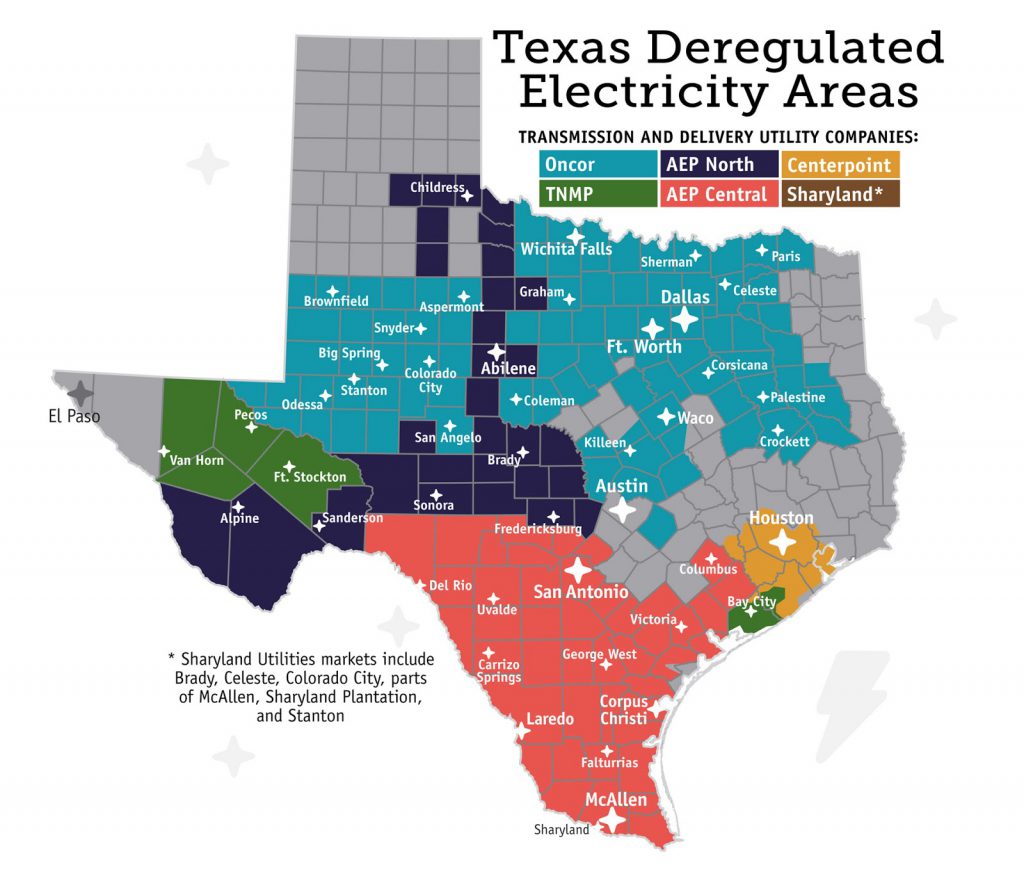 Discover the best electricity rates.
Power Wizard finds you the best electricity plan and ensures you won't overpay for electricity again.
Learn More in Under 2 Mins
Texas Deregulation Map: Detailed Regulated Areas
This map highlights the areas of Texas that do not participate in retail electric choice. We'll dive into why some areas are exempt from deregulation in a bit.
As you can see, the regulated areas of Texas account for only about 25% of the land area of Texas. The remaining 75% of the state is regulated.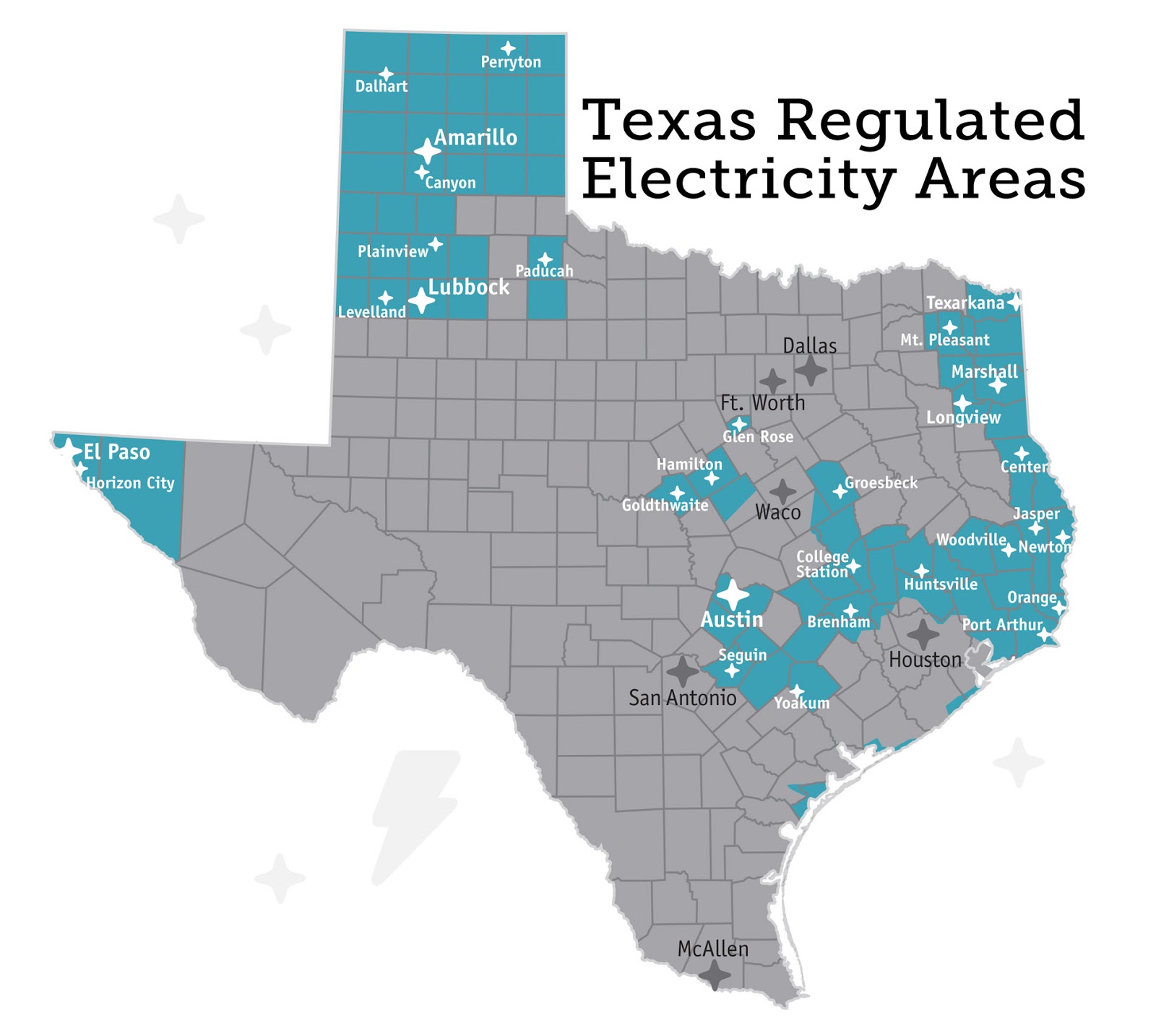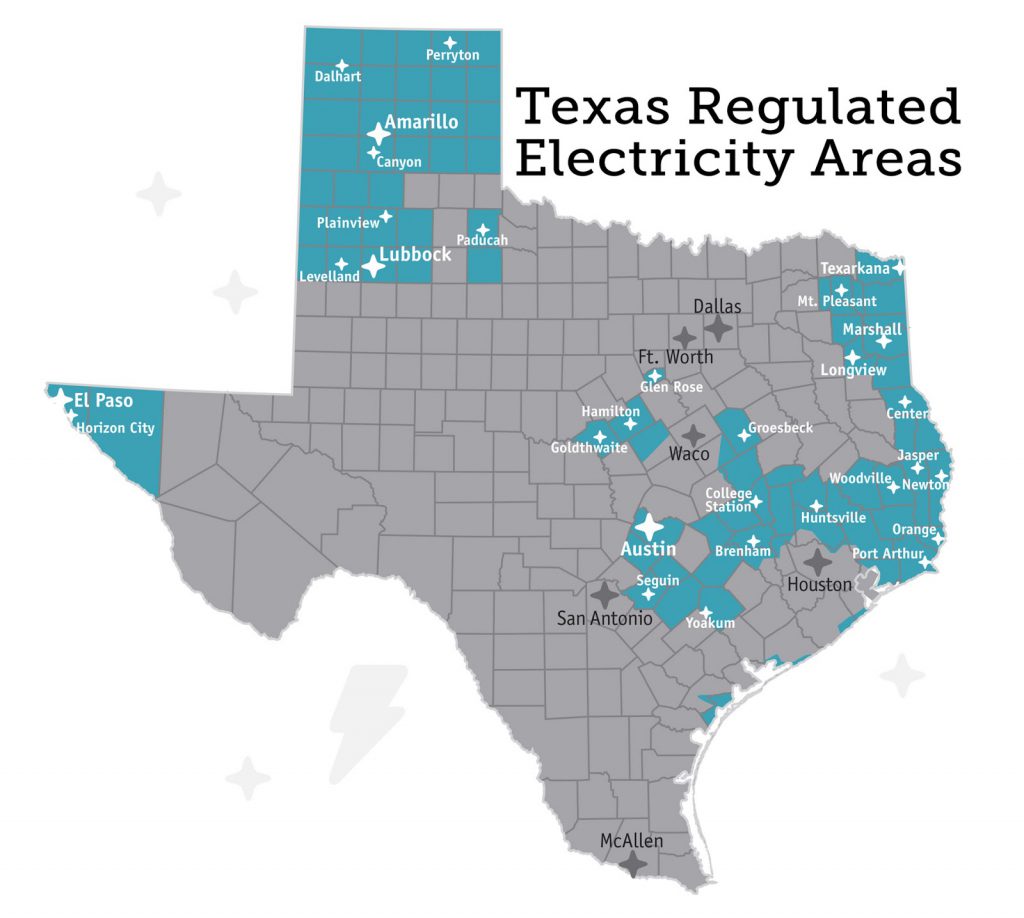 The Electricity Market: A History of Texas Deregulation
The history behind Texas' switch to a competitive retail electricity market is long. It's full of politics, corporate bureaucracy, varied claims of what is best for the consumer, etc.
Those pushing for deregulation of the retail electricity market believed that large investor-owned utilities had a monopoly on the market.
There was no competition in the pricing of rates per kWh. The utility companies set the price, and the consumer paid it.
Supporters of deregulation argued that consumers would pay a lower price for electricity if individual providers were allowed to purchase electricity at a wholesale price and then sell it to consumers for a profit.
Ultimately, the argument was: that multiple providers competing for the same customers would drive prices down.
Here is a brief timeline of events leading to Texas' current deregulated market:
1995: Legislation deregulating the wholesale power market in Texas passes
1997: Bill to deregulate the retail market in Texas dies in committee
1999: The PUC of Texas acknowledges that rates charged by utilities are too high
1999: Senate Bill 7 is signed into law – effectively deregulating the retail electric market
2002: The retail electric market opens
Does Texas Deregulation Look Different Than Other Deregulated States?
Although several states have active retail choice programs, no other state has adopted as large or widespread a program like Texas.
Unlike other deregulated states, "electrical retail choice is mandated in Texas." Because of this, over 87% of residential customer sales are provided by competitive suppliers.
Compare this number to the three states with the next highest levels of participation in a retail choice program:
Ohio: 46%
Illinois: 35%
Massachusetts: 34%
If the retail choice in Texas is mandated, why don't competitive suppliers account for 100% of residential electricity sales?
This is where the market can get a bit confusing in Texas.
There are two groups of consumers who are excluded from mandatory deregulation:
Customers in investor-owned utility service areas outside the ERCOT Regional Transmission Organization
Customers in areas serviced by municipal or cooperative utilities (even those within ERCOT) who have chosen to opt-out of the retail choice program a. Participation in the retail choice program is not mandated for non-investor-owned utilities (like municipal and cooperative utilities)
So, if some Texans don't have the option to choose their REP, who bills them for their monthly electricity usage?
How do Areas Exempt from Texas Deregulation Manage Electrical Distribution?
Consumers served by investor-owned utilities outside of ERCOT management are not eligible to participate in retail electric choice.
Additionally, municipal and cooperative utility companies (not investor-owned) can opt out of the retail electric choice program in Texas.
Consumers in these areas don't have the freedom to choose their electric provider. So, how does the market work in these areas?
Let's say you are moving from Houston to El Paso.
In Houston, you had several options for purchasing your electricity. You could shop around for rates and plan types that best fit your needs.
All that changes in El Paso where the only option for electricity service is El Paso Electric.
El Paso Electric is a public-owned utility company (therefore exempt from deregulation). It is the sole electricity provider in the area and has been operating since 1901.
Because there is no electric choice available in El Paso, all residents must purchase their electricity directly from El Paso Electric.
El Paso manages all generation, transmission, and distribution for the area it serves and rates in El Paso are slightly higher than the average rate for the state of Texas.
Let us find you the best plan in seconds and start saving.
Texas Deregulation: How Do you Choose the Best Retail Electricity Provider and Plan?
Having the freedom to choose also creates the responsibility of choosing a plan that will serve you best without costing an arm and a leg.
In some deregulated areas of Texas, you might have dozens of retail electric providers to choose from.
Additionally, each of these REPs might have dozens of plans and rate options to choose from.
Dozens of providers, plans. and rate options. A myriad of available combinations. You might soon be looking at hundreds of choices.
So how do you compare and ultimately choose the right plan?
Use All of Your Free Time Researching Available Providers
Researching available providers is your first step. To ensure you don't miss out on a plan that is cost-effective and meets your needs, you have to be meticulous when completing this step.
You'll need to harness all of your available patience and commit to researching EVERY provider.
How you do this is up to you. The two main options are:
Online research
Phone calls
Whichever path you choose, this step might take you days or weeks. For every REP, you'll need to inquire about:
Current rates
Available plan types
Deposit requirements
Contract terms and early termination fees
Additional fees
Incentives or promotions offered
What do you do with all this information as you find it?
Compile a Thorough List of Electricity Plans Offered by The REPs in Your Area
As you research REPs, you'll want to create some sort of spreadsheet to compare all the information you gather.
Have you taken an Excel class? No? Think you'll be able to just wing it? Well, you probably can. Putting a spreadsheet together to collect the information really won't be too difficult.
It's the next few steps that might get you.
Establish Your Unique Electricity Needs
Every Texas household is unique. How and when do you use electricity?
Some major factors that can affect your answer to this question are:
Size of your home
Age of your home
Style of your home
Time spent at home
Number of occupants in your home
Appliance use in your home
And much more
You need to look at the specific ways you use electricity to choose the type of plan that will meet your needs.
The type of plan you choose will affect:
Rate per kWh
Deposit
Contract terms
Additional fees
How will you compare your hundreds of options to your unique needs?
Develop a Way to Objectively Compare All of the Plans Against Your Unique Needs
This is where the process can get difficult and overwhelming.
It is nearly impossible to objectively compare your options manually.
Ideally, you would develop software or an algorithm that looks at all aspects of your historical usage. Then, implement that tool to compare all the information you compiled while researching your available options.
Do you have the math or tech skills to do this?
Choose a Plan, Enroll, and Continually Monitor the Market
Once you have done all your comparisons, choose a REP and enroll in the plan that suits you best.
But your work doesn't end here.
Can you be sure the plan you chose will still work for you in three months? How about 8 months? A year?
You'll need to continually update your spreadsheet and constantly monitor the market. Rates change. New plans are created. New promotions are offered.
There could always be another option out there that might save you money.
Save Time With Power Wizard's Unbiased Technology
If that entire process makes you want to pack up and move to a city that doesn't have a retail electric choice, we understand.
It's time-consuming, confusing, and downright frustrating, and exhausting.
Power Wizard has a better solution. Don't move just yet. Give us a few minutes to analyze your electricity needs and identify the REP and plan that matches your needs.
But, we don't stop there.
Become a Power Wizard member and not only will we find a great plan for you, but we'll also:
Manage the entire enrollment process
Take care of your switch from one REP to another
Continually monitor your usage and the market
Let you know if a better plan becomes available and help you switch again if it'll save you money
What's required on your part? About ten minutes of your time.
Delete that list you started compiling.
Start with our FREE Savings Estimate Tool and we'll do the rest.
Discover the best electricity rates.
Power Wizard finds you the best electricity plan and ensures you won't overpay for electricity again.
Learn More in Under 2 Mins
Complete List of Deregulated Cities in Texas
Below, you will find a complete list of cities and towns in Texas that are part of the retail electric choice program in Texas.
Select cities are clickable. You can learn more about REPs, rates, and plans available in these locations.
Keep in mind, that some locations in Texas are only partially-deregulated. Zipcodes are very important when researching deregulated areas of Texas.
Abilene
Addison
Alamo
Albany
Aledo
Alice
Allen
Alpine
Alvarado
Alvin
Alvord
Andrews
Angleton
Anson
Aransas Pass
Archer City
Argyle
Arlington
Arroyo City
Aspermont
Athens
Atlanta
Aubrey
Austwell
Azle
Bacliff
Baird
Balch Springs
Ballinger
Balmorhea
Barksdale
Bay City
Baytown
Bedford
Beeville
Bellaire
Bellmead
Belton
Benbrook
Big Lake
Big Spring
Bishop
Blooming Grove
Bonham
Booker
Brackettville
Brazoria
Breckenridge
Bronte
Brookshire
Brownwood
Buffalo
Burkburnett
Burleson
Cameron
Canton
Carrizo Springs
Carrollton
Cedar Hill
Cedar Park
Centerville
Channelview
Childress
Christoval
Cisco
Clarendon
Clarksville
Cleburne
Clifton
Clute
Clyde
Collinsville
Colorado City
Columbus
Comanche
Commerce
Comstock
Cooper
Coppell
Copperas Cove
Corpus Christi
Corsicana
Cotulla
Crane
Crockett
Crosby
Cross Plains
Crossroads
Crowell
Crystal City
Cypress
Dallas
De Leon
De Soto
Decatur
Deer Park
Del Rio
Denison
Devine
Diboll
Dickens
Dickinson
Dilley
Donna
Dublin
Dumas
Duncanville
Eagle Lake
Eagle Pass
Early
Eastland
Eden
Edgewood
Edinburg
Edna
Edom
Egypt
El Campo
Eldorado
Electra
Elgin
Ennis
Escobares
Etoile
Euless
Eustace
Falcon Heights
Falfurrias
Farmers Branch
Flint
Flo
Forest Hill
Forney
Fort Davis
Fort Stockton
Fort Worth
Freeport
Freer
Frisco
Fulton
Gainesville
Galena Park
Galveston
Gatesville
George West
Goliad
Graford
Graham
Granbury
Grand Prairie
Grandview
Grapevine
Gun Barrel City
Hallettsville
Haltom City
Hamilton
Hamlin
Harker Heights
Harlingen
Haskell
Hebbronville
Henrietta
Hidalgo
Hillsboro
Hitchcock
Houston
Hubbard
Hudson
Humble
Huntington
Hurst
Hutchins
Ingleside
Iraan
Irving
Italy
Jacksboro
Jersey Village
Jewett
Johnson City
Jourdanton
Junction
Karnes City
Katy
Kaufman
Keene
Keller
Kemah
Kenedy
Kermit
Killeen
Kingsville
Knox City
La Feria
La Marque
La Porte
Lacy Lakeview
Ladonia
Laguna Park
Lajitas
Lake Jackson
Lake Whitney
Lake Worth
Lamesa
Lancaster
Laredo
League City
Leakey
Leona
Lewisville
Lindale
Liverpool
Log Cabin
Los Fresnos
Lufkin
Lytle
Mabank
Magnolia
Malakoff
Malone
Manor
Mansfield
Marfa
Mathis
Mc Allen
Mc Gregor
Mc Kinney
Memphis
Menard
Mercedes
Merkel
Mesquite
Midland
Midlothian
Milano
Milford
Mineral Wells
Mission
Monahans
Muenster
Munday
Nacogdoches
Nassau Bay
Neches
Nocona
North Richland Hills
Northlake
Odem
Odessa
Olney
Orange Grove
Ozona
Paducah
Paint Rock
Palacios
Palestine
Palmer
Palmview
Paris
Pasadena
Pearland
Pearsall
Pecos
Penitas
Perryton
Pharr
Pilot Point
Plano
Pleasanton
Port Aransas
Port Isabel
Port Lavaca
Port Mansfield
Port O Connor
Portland
Pottsboro
Praire View
Premont
Presidio
Quanah
Quinlan
Quintana
Rachel
Rainbow
Rancho Viejo
Ranger
Rankin
Raymondville
Red Oak
Refugio
Reklaw
Richardson
Richland
Richland Hills
Richmond
Rio Grande City
Rio Hondo
Riviera
Riviera Beach
Roanoke
Robert Lee
Rockdale
Rockport
Rocksprings
Rockwall
Roma
Rosenberg
Rotan
Round Rock
Round Top
Rowlett
Royse City
Ruidosa
Rule
Sabinal
Saginaw
Saint Jo
Salado
San Angelo
San Benito
San Juan
San Leon
Sandia
Santa Anna
Sargent
Seabrook
Seadrift
Seagoville
Sealy
Seguin
Shamrock
Sheffield
Sherman
Sinton
Snyder
Sonora
South Houston
South Padre Island
Spearman
Spring
Springtown
Spur
Stafford
Stamford
Stephenville
Sugar Land
Sulphur Springs
Surfside Beach
Sweetwater
Synder
Taft
Taylor
Temple
Terlingua
Terrell
Texas City
The Colony
Three Rivers
Throckmorton
Tivoli
Tomball
Tuleta
Tyler
Uvalde
Van
Van Alstyne
Vernon
Victoria
Waco
Waxahachie
Webster
Wellington
Weslaco
West Columbia
West Tawakoni
Westlake
Wharton
White Settlement
Whitewright
Whitney
Wichita Falls
Wills Point
Wimberley
Winters
Wolfe City
Woodway
Yantis
Yorktown
Zapata
Zavalla
Let us find you the best plan in seconds and start saving.